Kent Children's Portal Update
The Launch of the Kent Children's Portal is at 8am on the 12th October 2020 , please use the following links and information should you wish to set up your accounts in advance of the go live date:
Please take the following steps to set up your account, you will not however be able submit a form though the Portal until 12th October;
Upon accessing the Portal via the holding page you will be taken to the Main KCC menu page.
Select ' My account' from the Menu Bar

Click on the 'Register for new account' button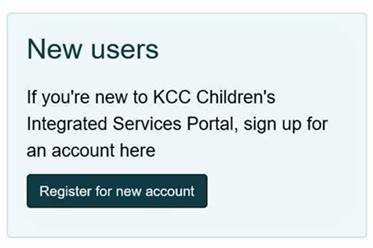 Step 1: enter your name as requested (select 'next' to move on)
Step 2: enter your email address, create a password conforming to the requirements as stated – then confirm the password (select 'next' to move on)
Step 3: A code will be sent to your given email address. Enter the code in the field provided (select 'next' to move on).
You will then see a message advising that your registration was successful. select 'continue'
This will take you to a page where you will need to agree to the terms and conditions to continue – tick as appropriate and select 'continue' again. This will take you back to the form.
When you are registered you can use the same account for any subsequent requests – you will always receive an authentication code, however this is received quickly and ensures security of the information submitted.
Full Guidance can be found via the following link: https://www.kelsi.org.uk/__data/assets/pdf_file/0019/113473/Childrens-Portal-User-Guidance.pdf
Key Points/ top tips:
Access to the portal will be via the existing sites – Kelsi and KSCMP.
Users will have to register to set up an account – this is quick and easy to do and just requires a name and email address that can be accessed whilst the portal is being used.
The system offers greater security, with features such as the requirement of an authentication code (delivered to the user by email) for each submission and forms are submitted directly into the Early Help Module.
Full guidance will be available and will be released before the go live date, this includes a short instruction video.
Full testing has taken place with partner agencies.
Most browsers can be used however, use of Chrome is recommended for greater efficiency.
There will be the facility to provide feedback, and whilst we won't be able to respond to individuals, we will be regularly reviewing and using feedback to further develop the Portal.
Individual accounts are recommended but where this is not possible (for some of our partner agencies) it is advised that portal users within a service should be kept to a minimum.
We will be asking for the same information – but in a slightly different format.
You will be able to save and print a PDF copy of the form.
Worried About a Child?
If you are worried about the safety of a child or young person please complete the form through the portal
https://webapps.kent.gov.uk/KCC.ChildrensPortal.Web.Sites.Public/Default.aspx
If the child is in immediate danger, call the emergency services using 999.
If you need to make contact out of working hours please call the Out of Hours Services on 03000 41 91 91.
For Professionals
If you are a professional who is considering completing a Single Request for Support Form have you considered the following:
Does your concern meet Level 3 or 4 of the Support Levels Guidance?
Do you have agreement to engage from the child or family?
Do you need advice?
Have you discussed the matter with your Designated Safeguarding Lead?
For more information please click here
'Say Something If You See Something'
Kent has recently launched a campaign to raise awareness of child sexual exploitation called Operation Willow. If you have concerns about a child or young person whom you believe is at risk of sexual exploitation
please call Kent Police on 101 quoting Operation Willow. You can also contact the National Child Sexual Exploitation Helpline on 11 60 00. For more information please click here